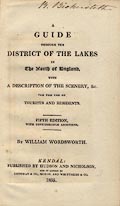 A GUIDE THROUGH THE DISTRICT OF THE LAKES IN The North of England, WITH A DESCRIPTION OF THE SCENERY, &c. FOR THE USE OF TOURISTS AND RESIDENTS. FIFTH EDITION, WITH CONSIDERABLE ADDITIONS. BY WILLIAM WORDSWORTH.

KENDAL: PUBLISHED BY HUDSON AND NICHOLSON, AND IN LONDON BY LONGMAN & CO., AND WHITAKER & CO. 1835.
The reverse of the title page has a colophon:-
KENDAL: Printed by Hudson and Nicholson.