frontispiece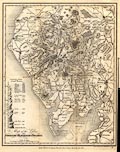 Folded and tipped in, a

Map of the Lakes OF Cumberland, Westmorland & Lancashire.

scale about 5.5 miles to 1 inch, by Sidney Hall, Bury Street, Bloomsbury, London, 1822.
Drawn & Engraved by Sidy. Hall, Bury Strt. Bloomsby.
London, Published by Longman, Hurst, Rees, Orme, & Brown, Paternoster Row, 1822.