Title page, 11th edition:-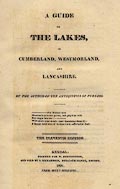 A GUIDE TO THE LAKES, IN CUMBERLAND, WESTMORLAND, AND LANCASHIRE. BY THE AUTHOR OF THE ANTIQUITIES OF FURNESS.

For Nature here
Wanton'd as in her prime, and play'd at will
Her virgin fancies.
Wild above rule or art (and beauteous form'd)
A happy rural seat of various view.
- Paradise Lost.
THE ELEVENTH EDITION KENDAL: PRINTED FOR W. PENNINGTON, AND SOLD BY J. RICHARDSON, ROYAL-EXCHANGE, LONDON. 1821. PRICE SEVEN SHILLINGS.
Reverse of title page:-
Printed by J. Kilner, Market-Place, Kendal.