Frontispiece (plate 30):-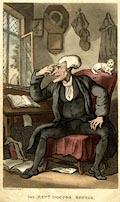 THE REVD. DOCTOR SYNTAX.
The relevant text is from page 1:-

THE School was done, the bus'ness o'er,
When, tir'd of Greek and Latin lore,
Old Syntax sought his easy chair,
And sat in calm composure there.
...

His wife was to a neighbour gone,
To hear the chit-chat of the town;
And left him the infrequent power
Of brooding thro' a quiet hour.
Thus, while he sat, a busy train
Of images beseiged his brain.
When, as the vivid meteors fly,
And instant light the glooming sky,
A sudden thought across him came,
That told the way to wealth and fame;
And, as th' expanding vision grew
Wider and wider in his view,
The painted fancy did beguile
His woe-worn phiz into a smile.
...

"- I'll make a TOUR,- and then I'll WRITE IT."
"You well know what my pen can do,
"And I'll employ my pencil too:-
"I'll ride and write, and sketch and print,
"And thus create a real mint;
"I'll prose it here, I'll verse it there,
"And picturesque it ev'ry where.
"I'll do what all have done before;
"I think I shall,- and somewhat more.
"At Doctor Pompous give a look;
"He made his fortune by a book:
"And if my volume does not beat it,
"When I return, I'll fry and eat it.
...