title page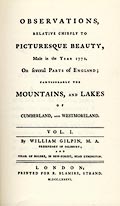 OBSERVATIONS RELATIVE CHIEFLY TO PICTURESQUE BEAUTY, Made in the YEAR 1772, On several PARTS OF ENGLAND; PARTICULARLY THE MOUNTAINS, AND LAKES OF CUMBERLAND, AND WESTMORELAND. VOL.I. By WILLIAM GILPIN, M.A. PREBENDARY OF SALISBURY; AND VICAR OF BOLDRE, IN NEW-FOREST, NEAR LYMINGTON. / LONDON; PRINTED FOR R. BLAMIRE, STRAND. M.DCC.LXXXVI.
the header to the body text, vol.1 p.1, is:-
OBSERVATIONS ON Several PARTS OF ENGLAND, ESPECIALLY The LAKES, &c.